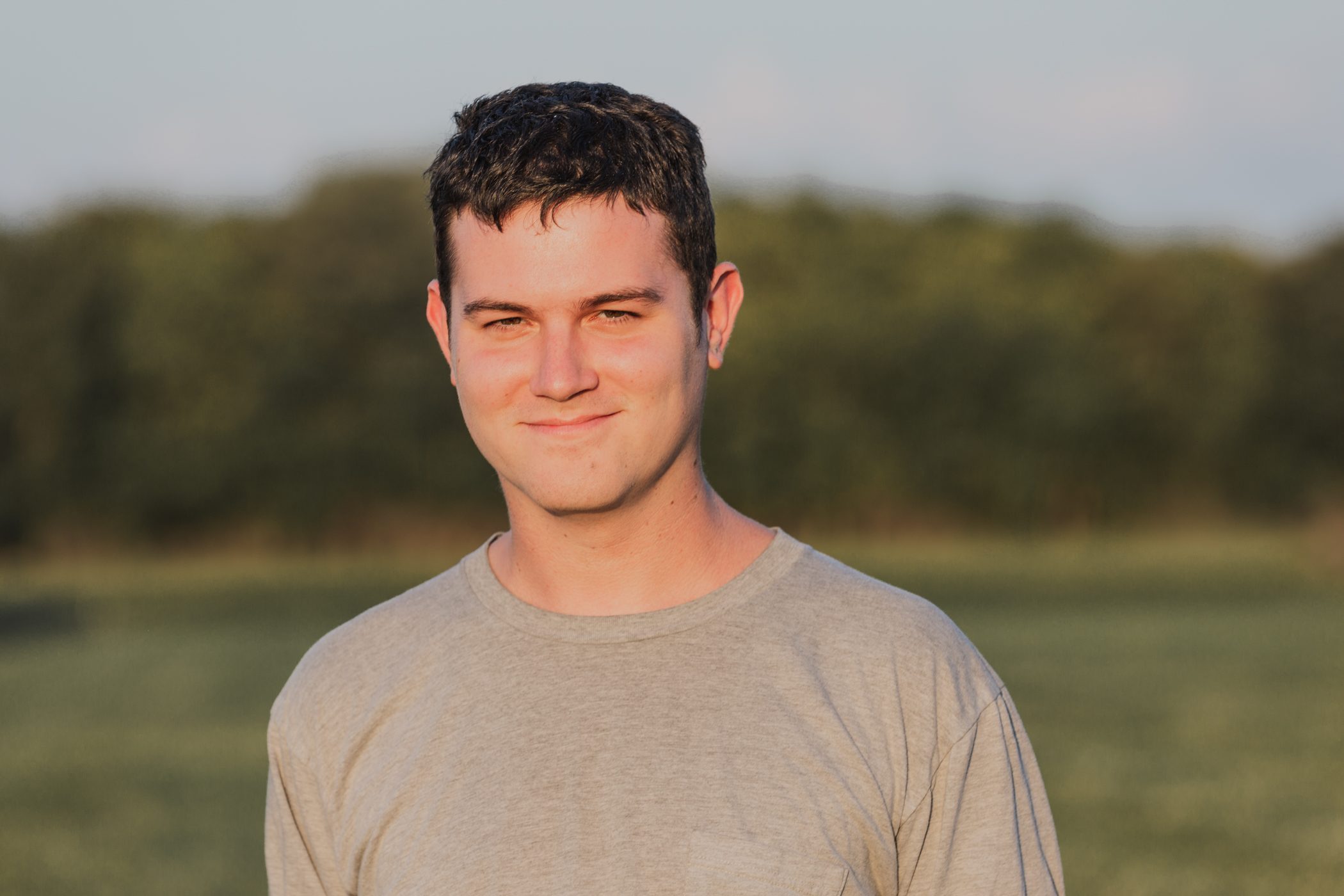 FORVU
A mobile app that streamlines skill exchanges between students.
BACKGROUND
Students at the Savannah College of Art and Design face one major challenge: campus communication. Without any bulletin boards or online forums, as well as a campus that spans 70+ buildings across campus, there is no singular place to look for roommates, jobs, or people to work with for large projects (i.e. film crew, models, etc.)

BRIEF
Design and prototype a mobile application that addresses the above insight. It should seamlessly integrate into and overall improve a students' everyday life.

THE TEAM
My Role: Lo-fidelity Prototyping, Mid-fidelity Prototyping, High-fidelity Prototyping, UI Design, User Experience Design

Gabby Manotoc: UI Design Lead, Animation and High-fidelity Prototyping, Research and Insights
Christian Edwards: Video Editing, Mid-fidelity Protyping, Research and Insights
Kara Humphreys: Brand Identity, Icon Design, Information Architecture, User Testing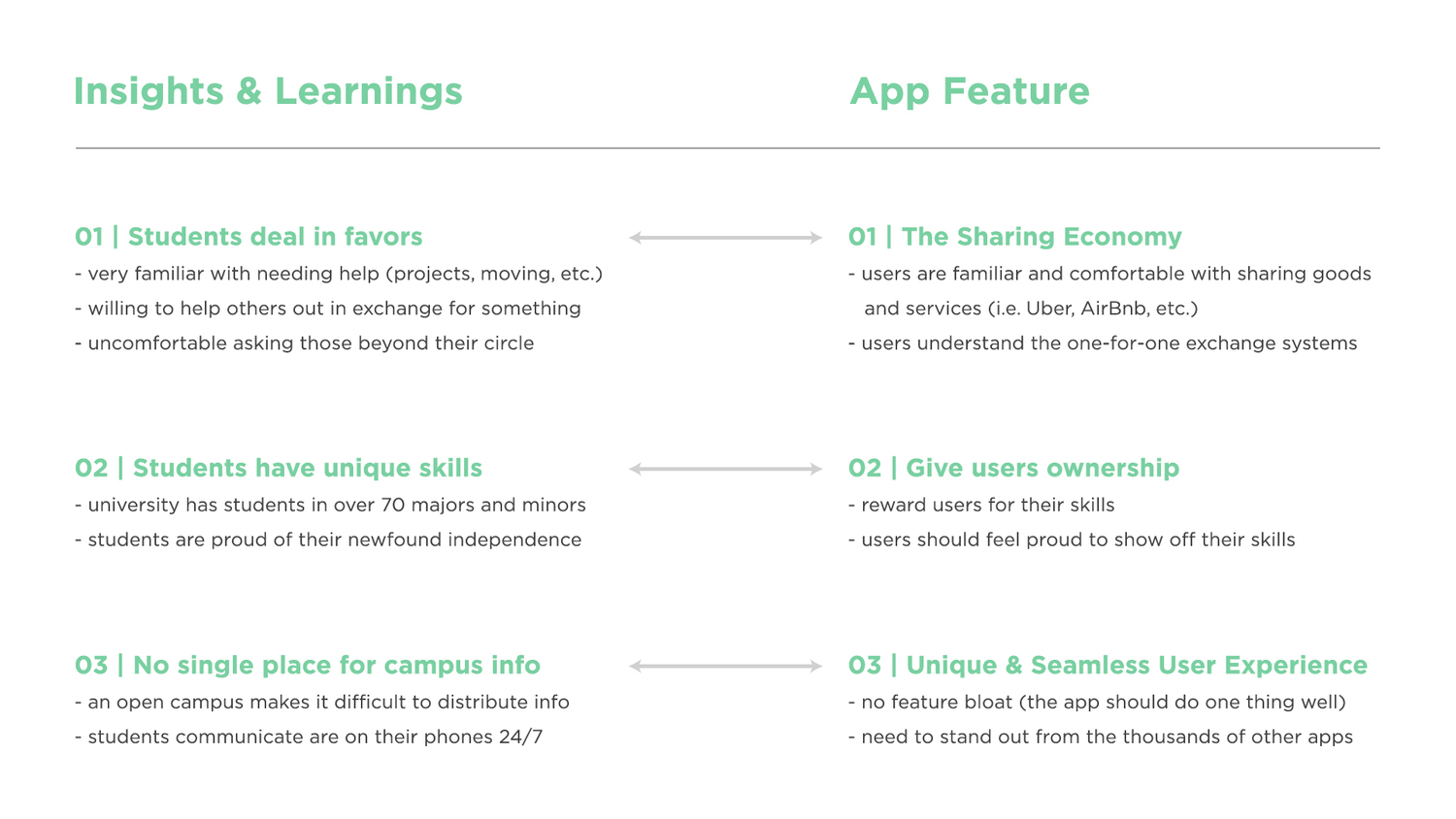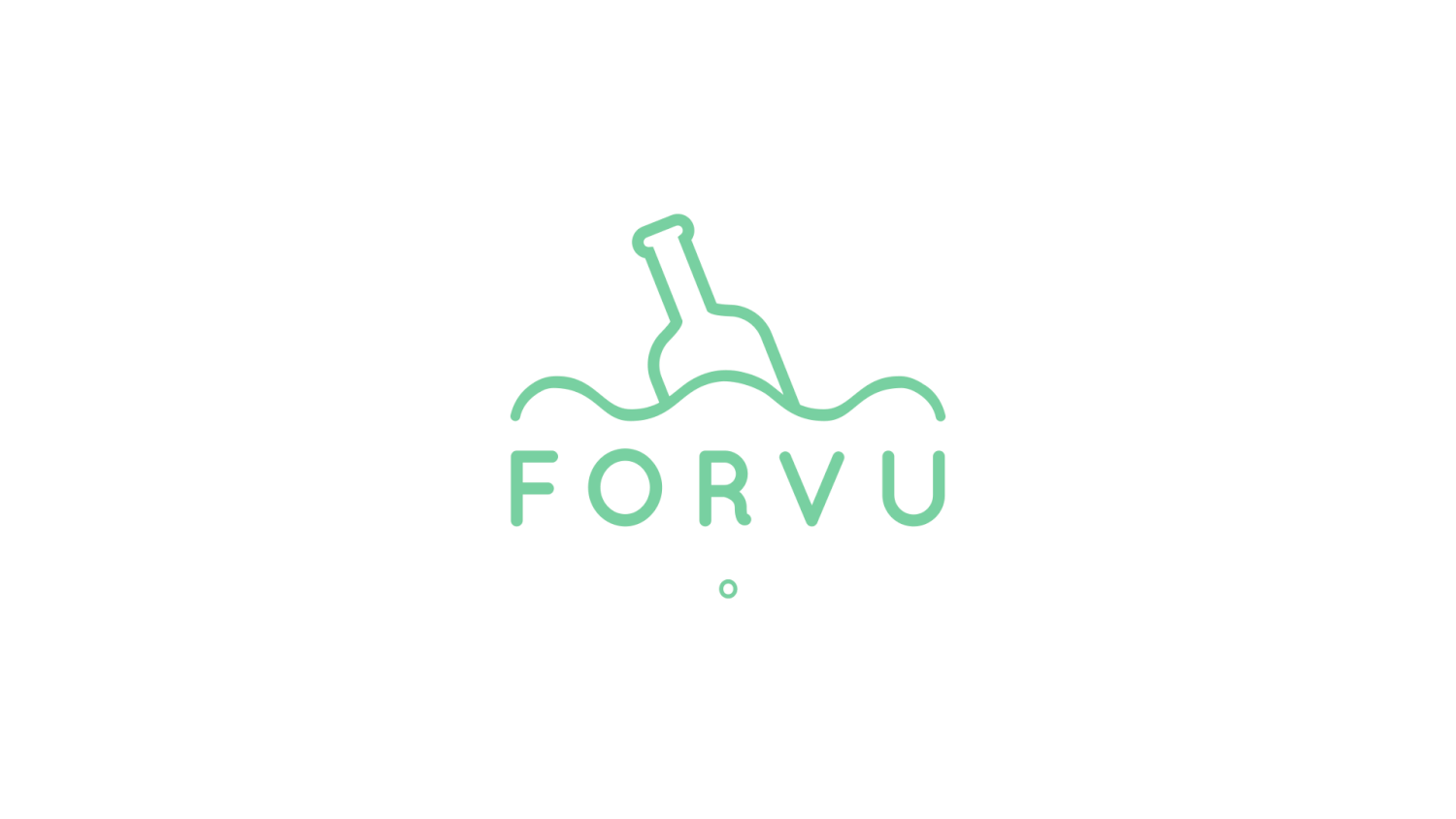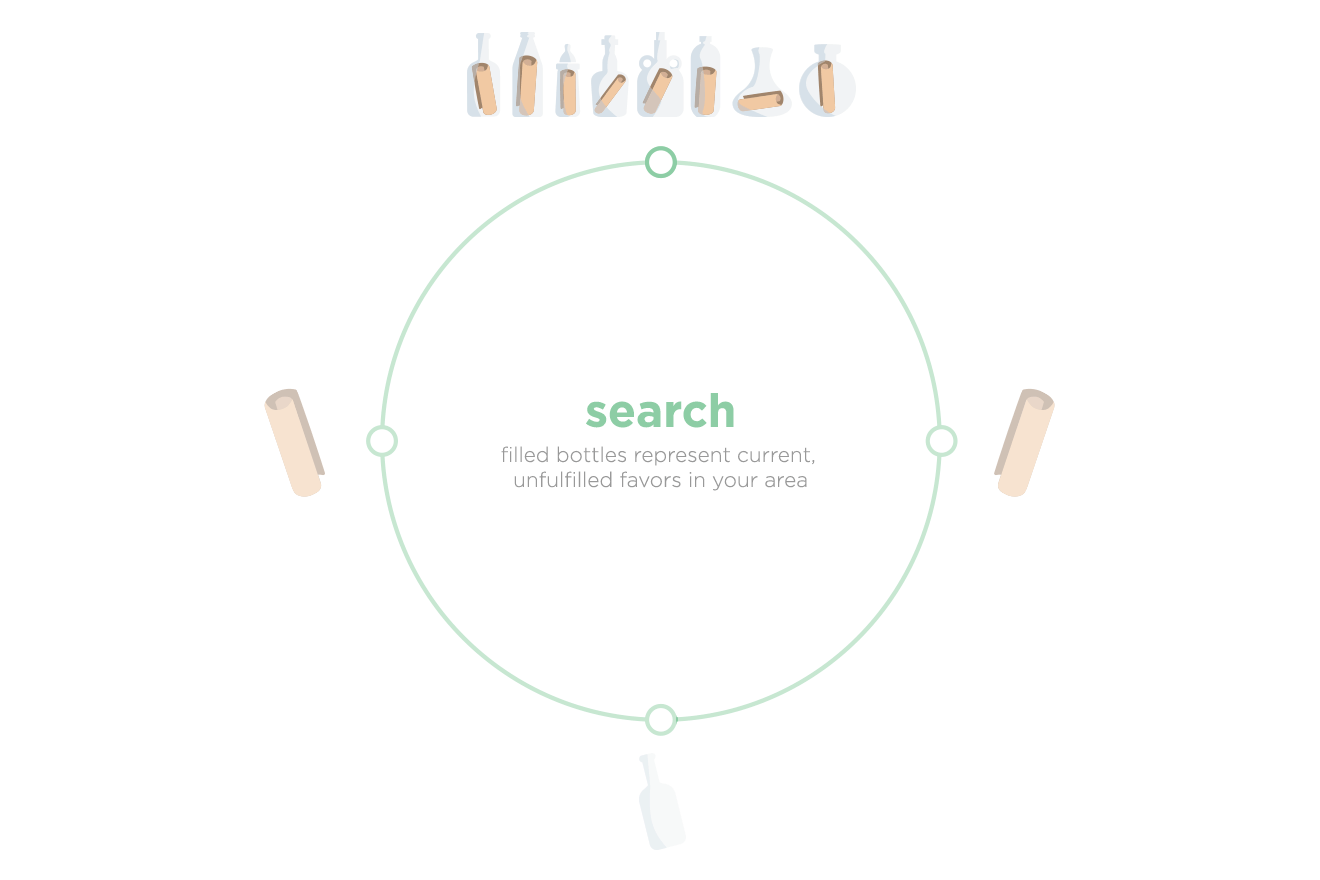 CONCEPT
The currency of the app is "favors." Users need to do a favor to get a favor in return. The one-for-one exchange is relevant in today's sharing culture (as evidenced with the rise of Uber and AirBnB for example). The familiar metaphor of a message in a bottle is used to visually symbolize the interaction.
Fun fact: "Vu" means "you" in French. The app's name literally means "for you", which is the main focus of the interaction.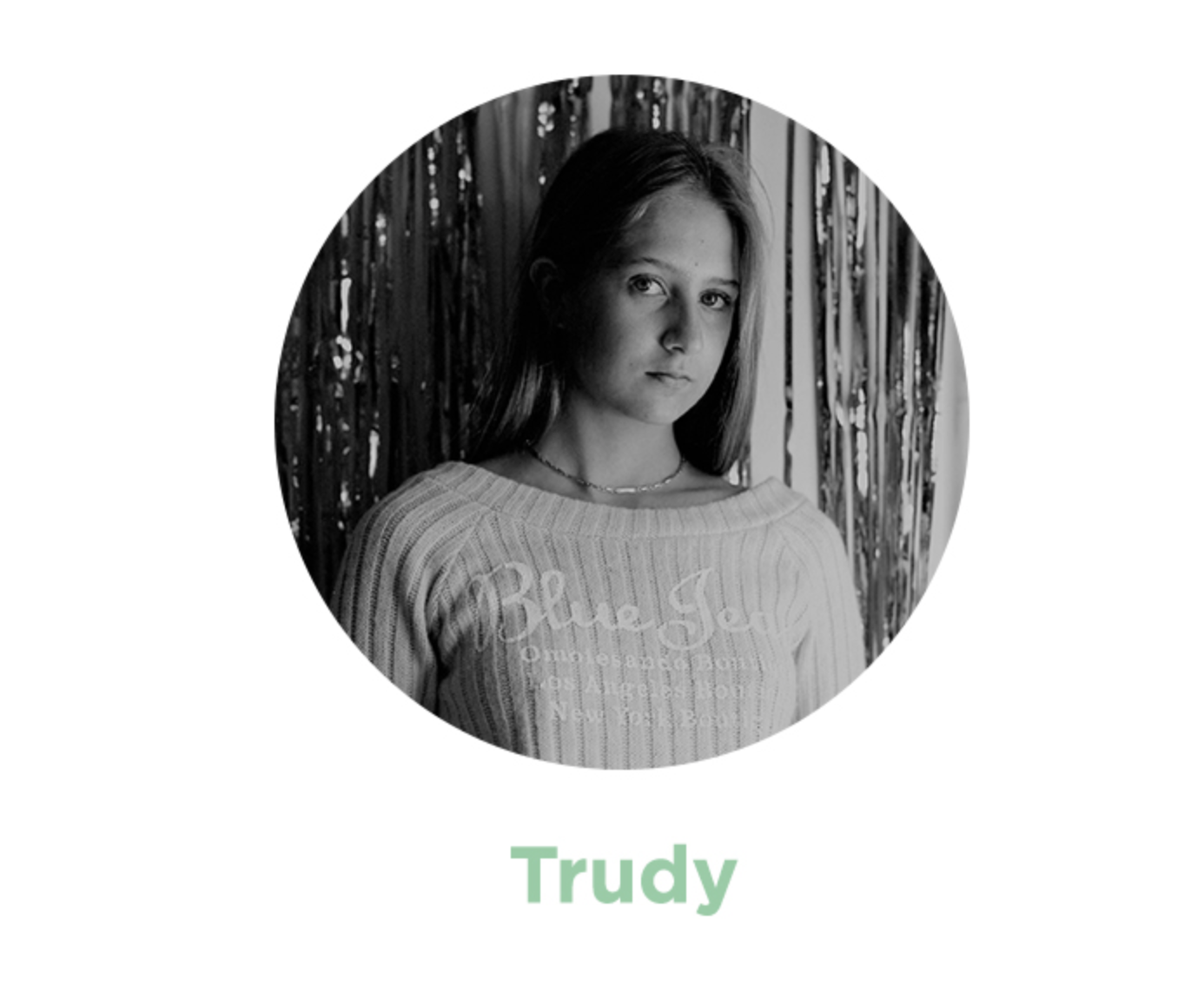 PERSONA 1
Trudy is a Savannah, GA local who is very active in the local community. She's working towards her graduate degree writing. She is planning a trip around the world in hopes of writing a novel of her experiences.


Right now, Trudy has more free time than usual and in her hours of internet surfing, she's stumbled upon Forvu. She values the connections found within her community and knows that favors will be useful, whether used now or in the future.


Motivator:

A natural planner, Trudy's brother will be visiting in a few weeks so she needs to borrow a bike for him.



Expectation:

Do a favor now to make sure she can earn one to use in the future.



Goals:


Short Term -

Use Forvu in her spare time to earn a favor she will need later on. She also wants to upgrade her gem points.

Long Term -

Earn as many favors as she can so she will always have some "just in case"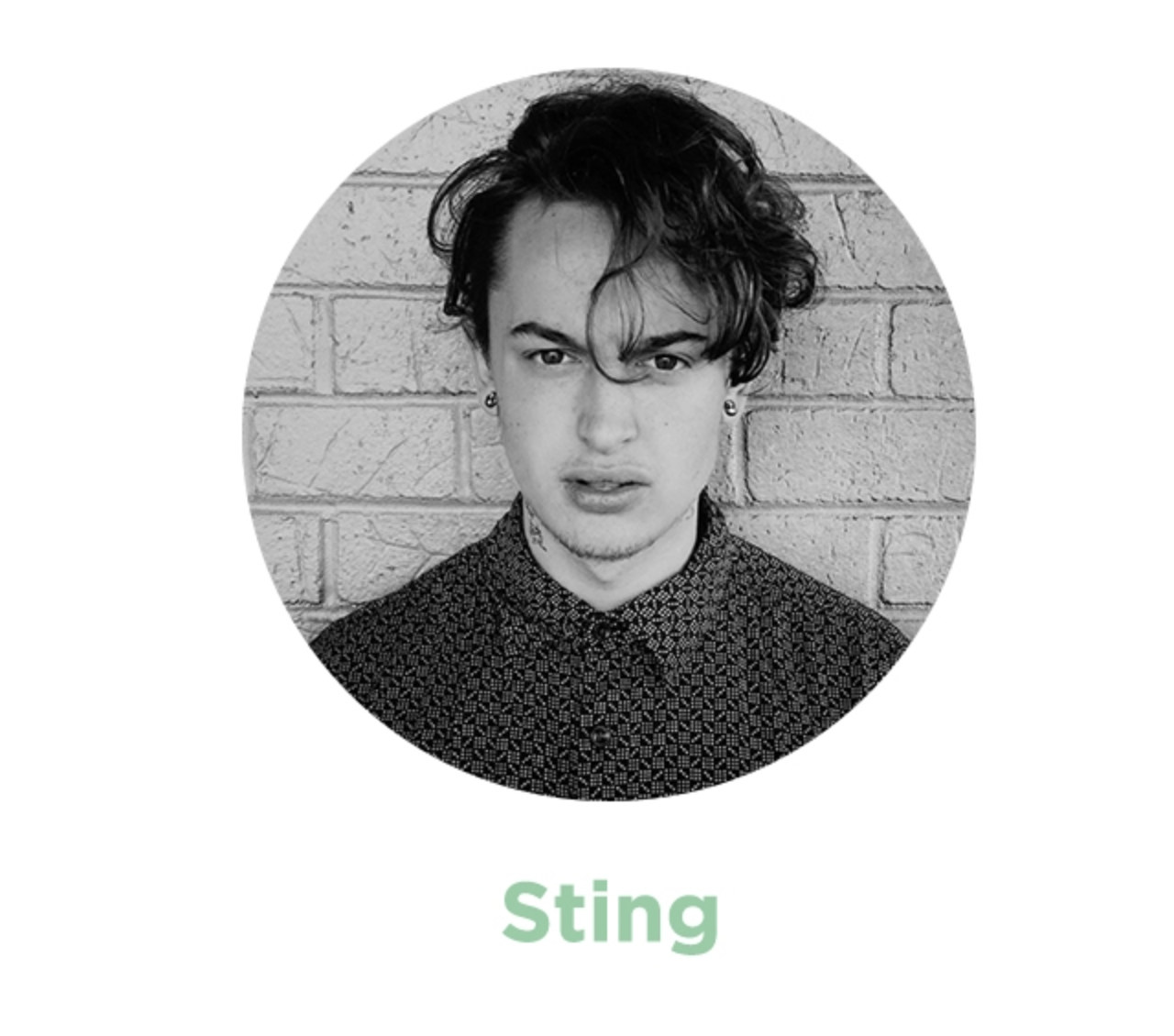 PERSONA 2
Sting is a 20 year old painting student who loves to spend time with his dog Derrick. In his free time, he likes going to the park and reading science fiction novels. After graduation he plans on moving to the West Coast and setting up a studio space.
Sting is very devoted to his work that sometimes he tends to lose track of time, and spend the whole day painting while his pet is stuck inside with him. He has a hard time keeping track of an exercise schedule for Derrick, especially now that it's finals.
Motivator:

Sting has a lot of painting to do this week and won't be able to walk his pet as often as he would like to.



Expectation:

He expects to find someone to walk his dog immediately.




Short Term - Give his dog the TLC he won't have time to give him this week (although he wants to)
Long Term - Receive and give favors on Forvu without having to spend money.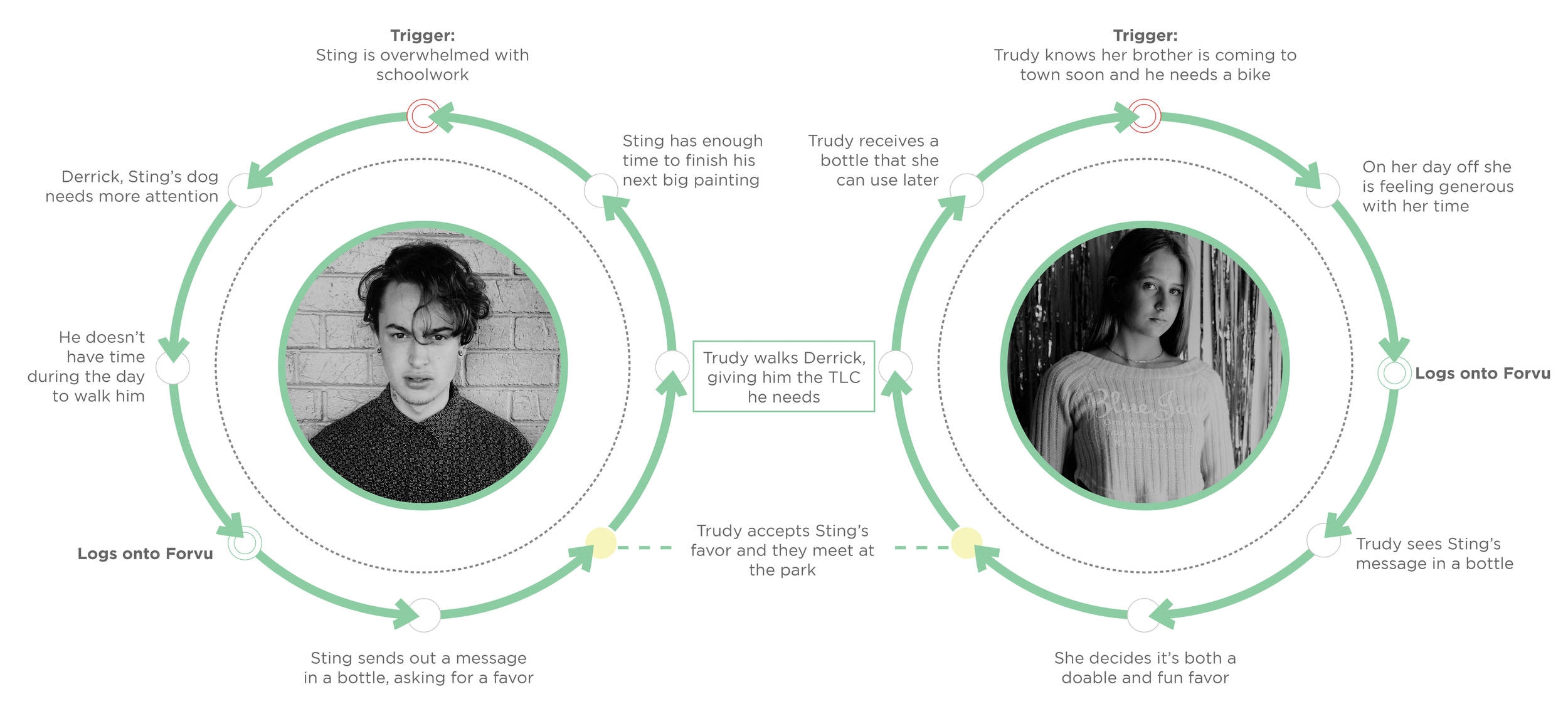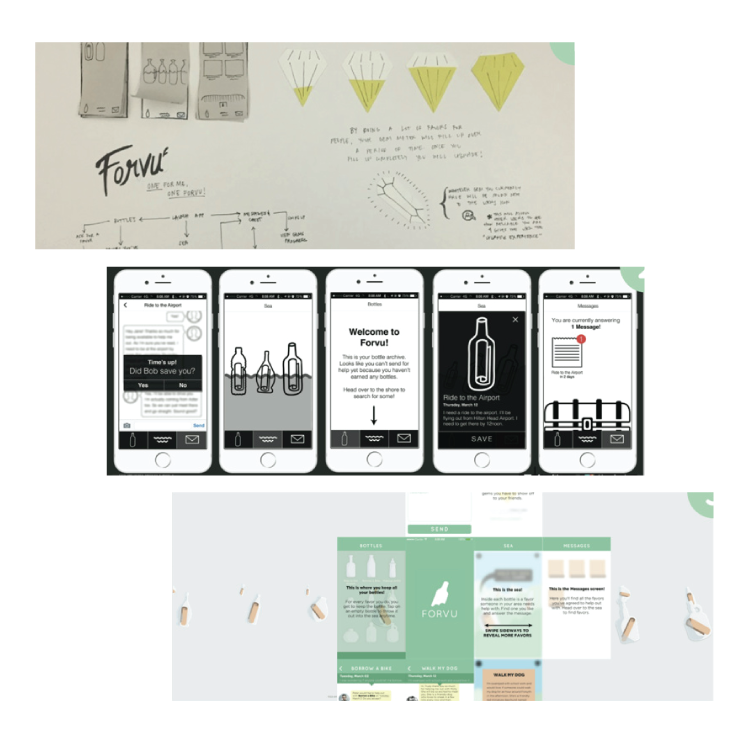 PROTOTYPES
Lo-Fidelity: Was done with paper and pen and layers of transparent paper to define what interactions lead where and when. This is also when I drew out the information architecture detailing out the amount of possible interactions within the App.
Mid-Fidelity: This prototype took all our sketches and turned them into a black and white interactive prototype done in Proto.io that we were able to do our initial testing on to see if our message in the bottle metaphor was resonating with our users.
High-Fidelity: Using Pixate, we were able to make realistic interactive animations and create a prototype users could download and actually go through on their own phone. This is how we received most of our feedback on our service and iterated on our design.
USER INTERFACE
In order to create brand cohesiveness across the entire app, we developed a detailed style guide complete with margins, colors and typography. We also did a lot of research on different mobile app trends and used our findings to inform our decisions.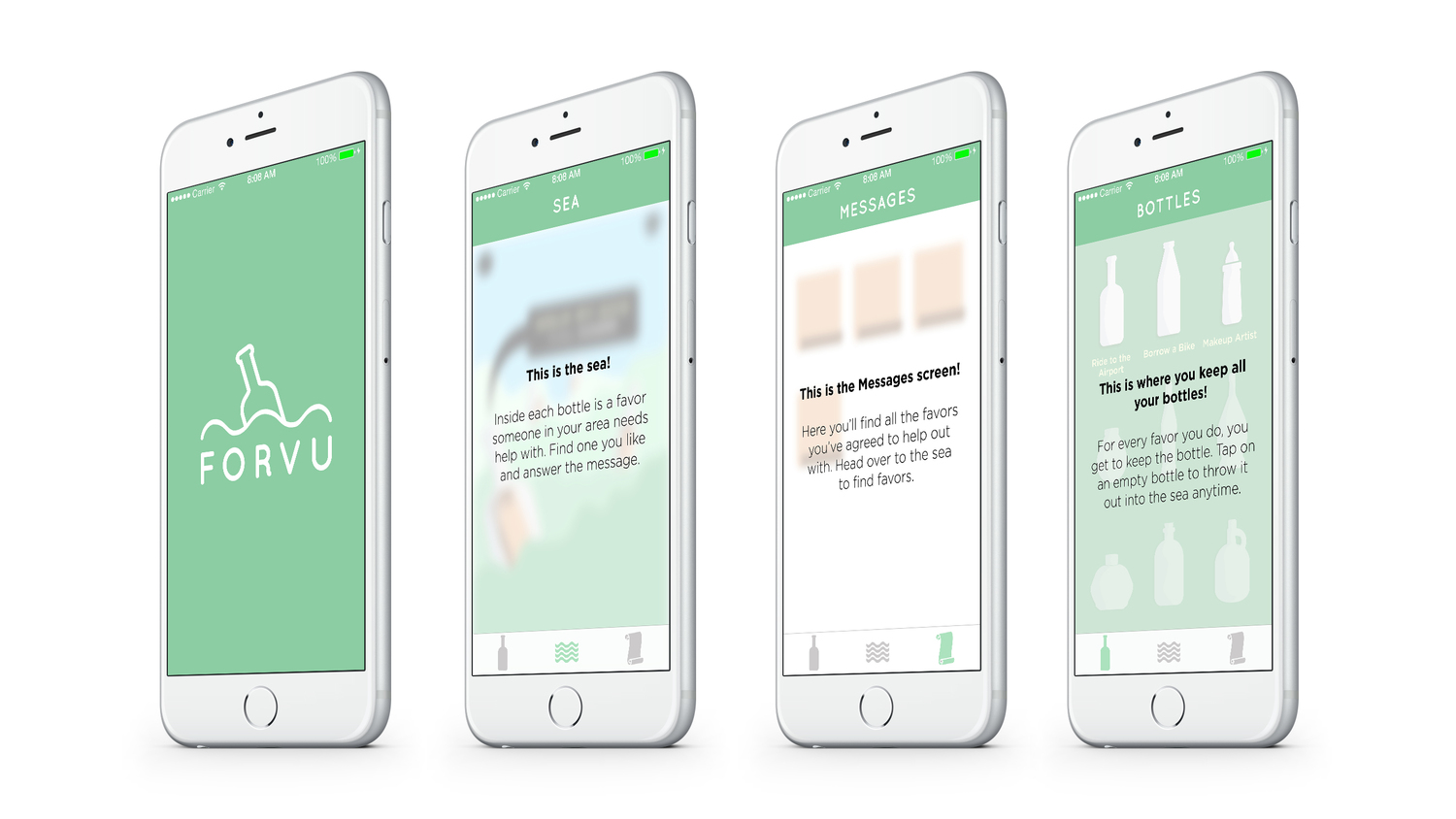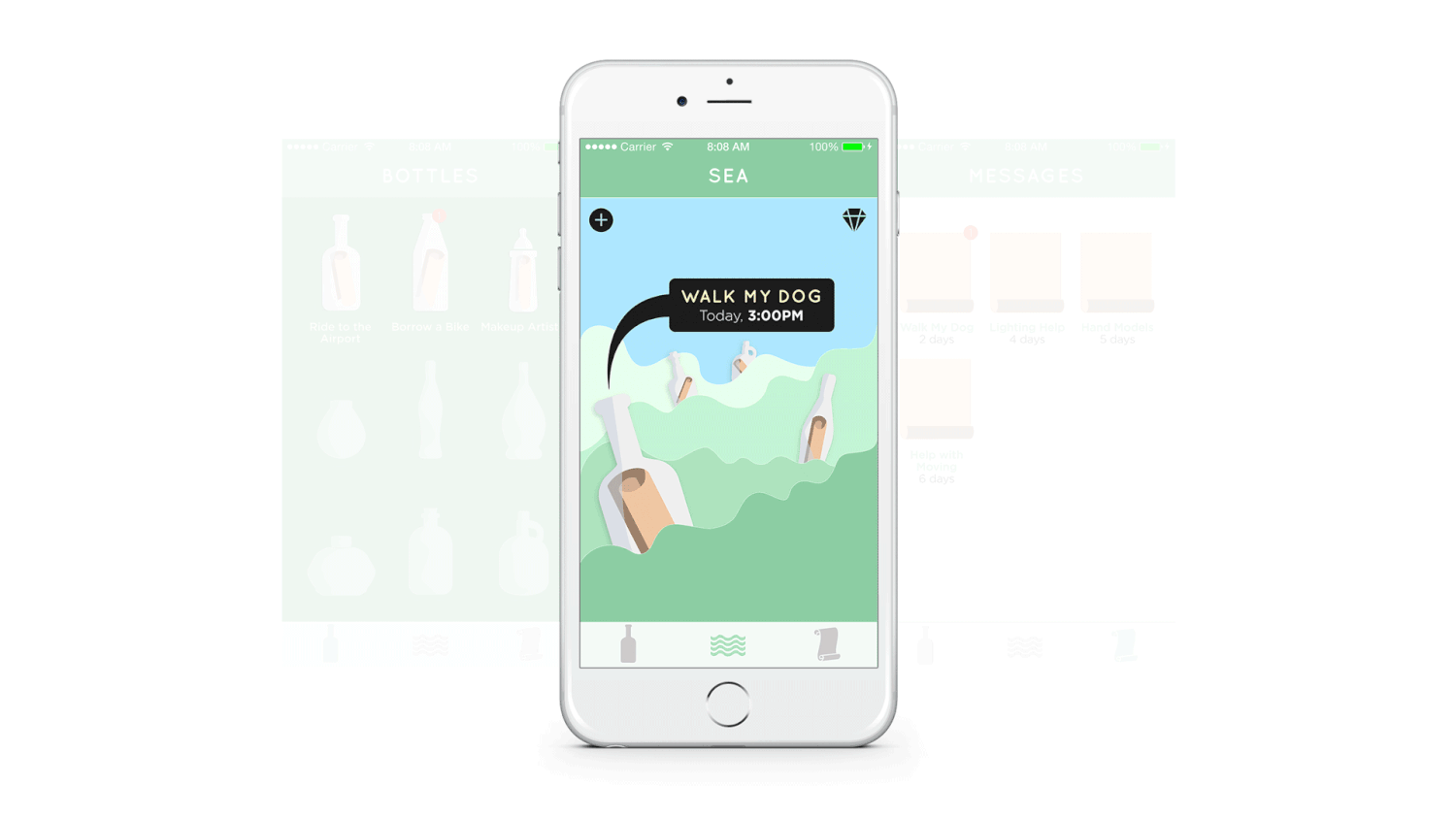 3 MAIN SCREENS
SEA - search for favors
BOTTLES - favors you need help with, chat with users who are helping you out
MESSAGES - favors you've picked up, respond to outstanding favors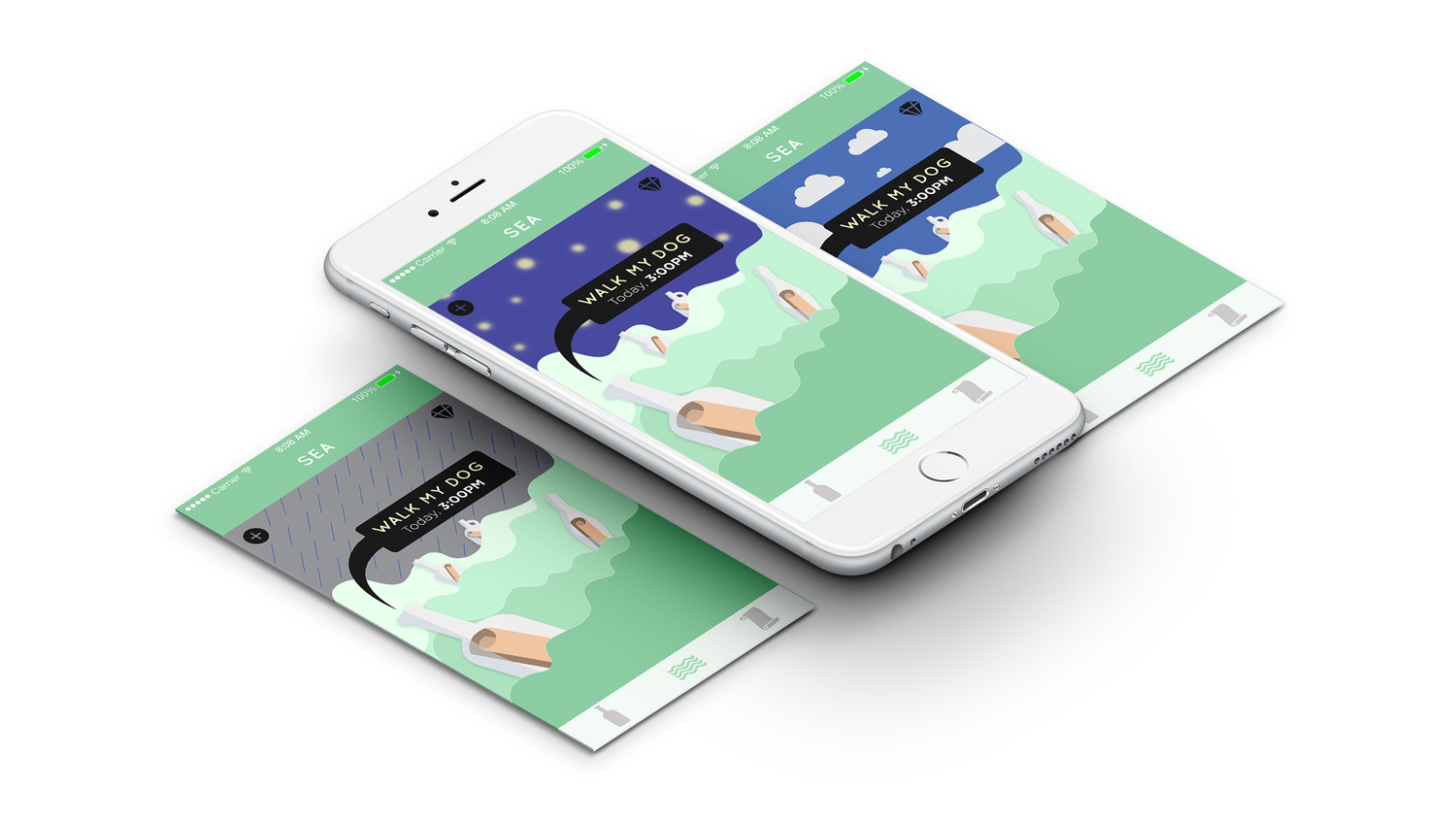 WEATHER FEATURE

Forvu dynamically reacts to weather. During user testing, we found that weather is a major factor for users when deciding on which favors to accept.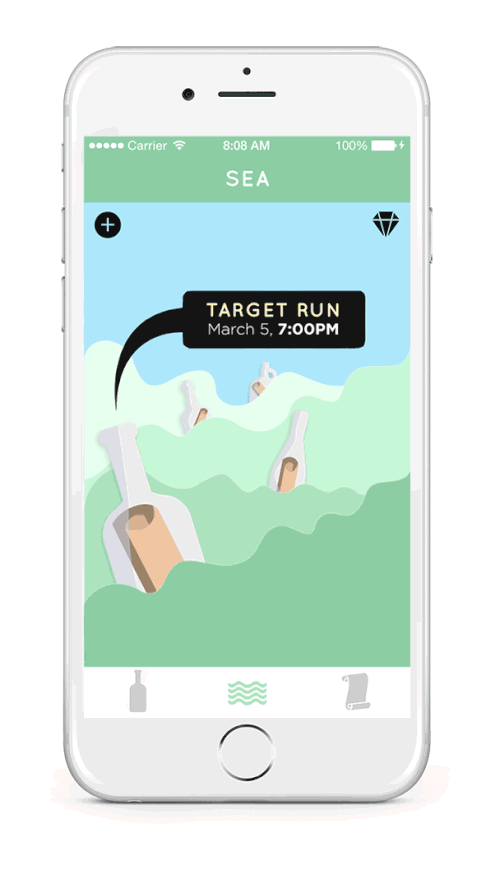 Swipe across the home screen to search for favors in your area. Once you respond to a message, you can chat with the other user on the messages screen. The number underneath each scroll indicates how long until the favor begins.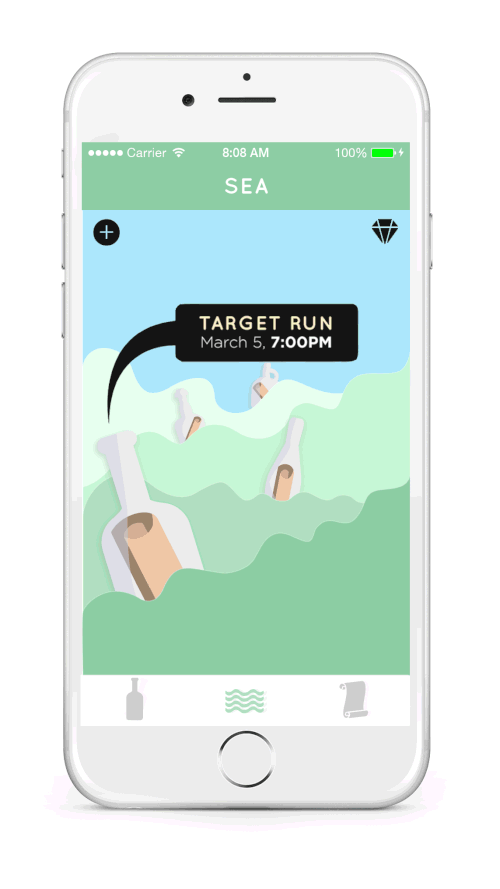 Easily ask for favors/send messages from the sea screen. Once someone responds to the message, you can choose to accept or deny their offer. If you accept it, the full chat opens.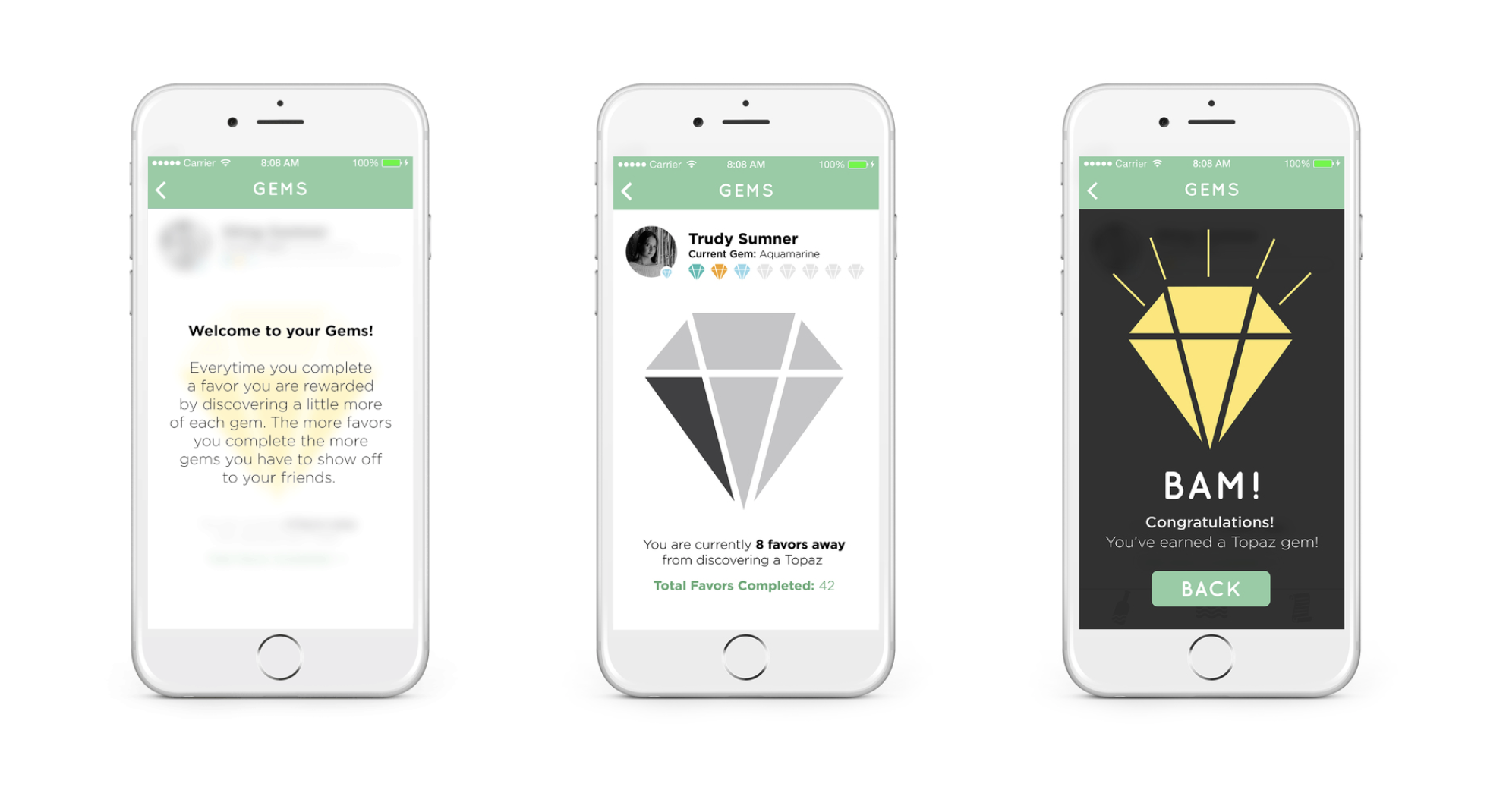 The more favors you do, the more gem points your receive. The advantage of having a higher gem status is that other users are more likely to trust you to help them. Every level up also entitles you to a free bottle to ask for an extra favor.
LEARNINGS
How to do a heuristic evaluation through user testing.



How to rapidly prototype using several different software programs.
How to design for two different goals within the same interface.